Dear international friends,
Do you like to sing Taiwanese songs?
Do you like to experience Taiwanese local culture?
Do you love to share good things?
What are you waiting for?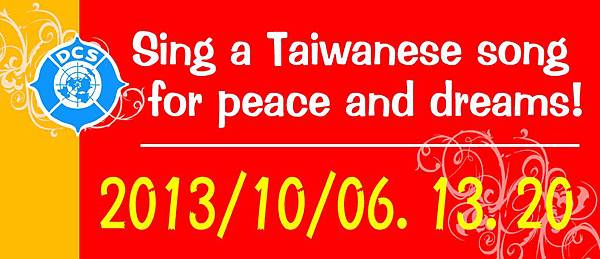 【Related Information】
1. Who can participate this Singing Competition:
Visitor who holds an international passport
Non-Chinese speaker with age above 18
2. Type of song: any song in Chinese or Taiwanese
3. The top 4 acts in each audition will be selected as Goodwill Ambassadors. There are totally 12 Goodwill Ambassadors.
4. Dates and contest venues Audition:
(1) Oct 6th Fu-jen University
(2) Oct 13th China Medical University in Taichung City
(3) Oct 20th Dream Mall in Kaohsiung City
5. Register from now to Sep 29, 2013 23:59.
6. Free Registration. Participants can get a small gift.
7. 《Please click to register!》
※ Contact person:
Shelley 0911-021293 shyangzen@gmail.com
Yoko 0939-836936 yoko_yu@cathaylife.com.tw
【Honors of Goodwill Ambassadors】
- Be awarded a memorial trophy of Goodwill Ambassador
- Free cultural tour to Huluton
- Be invited to perform in the concert of "Sing for Love and Dream"
- Be invited to perform in big event of DCS (Distinguished Citizens Society)
◎Adviser: Distinguished Citizens Society of R.O.C
◎Organizer: Distinguished Citizens Society-Taichung New Century
◎Joint-Organizer: 台中縣外籍配偶服務據點、台中市萱宇婦女協會、咖神股份有限公司、東亞文化藝術交流協會